This recipe is considered a star recipe as it has all the ingredients that can become one of the favorite dishes in any kitchen: is cheap, light, healthy and very easy and quick to prepare.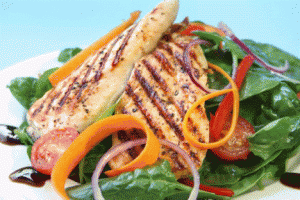 If you are the leading a busy life and has little time to cook, this recipe will get you out of more than a pinch and it will be ready in just 30 minutes. Even better, this dish contains just over 250 calories, which makes it an ideal recipe when you want to keep weight under control.
Preparation time: 5 minutes
Cooking time: 25 minutes
Ingredients for 4 people:
• 4 chicken breasts without bone or skin
• 250-300 grams of fresh sliced mushrooms
• 2 teaspoons of flour
• 2 teaspoons of olive oil
• 6 cloves of garlic
• 1/4 cup balsamic vinegar
• 3/4 cup chicken broth
• 1/4 teaspoons dried thyme
• 1 teaspoon of butter
• 1 bay leaf
• 1 pinch salt and pepper to taste.
Preparation:
Season the chicken and flour with a little salt and pepper and cover the chicken with flour.
Wash and slice mushrooms.
Fry the chicken with a little olive oil over medium heat until golden, about three or four minutes on each side.
Add the garlic and mushrooms to the pan and cook everything for another four minutes.
Then add the vinegar, chicken broth, bay leaf and thyme. Cover the pan and let cook over medium-low heat for about ten minutes, stirring occasionally.
Pass the chicken to a plate and cover with foil.
Continue making the sauce, now uncovered the pan, over medium heat for another 7 minutes.
Add butter and remove the bay leaf.
Pour the mushroom sauce over chicken to serve.
This dish is perfect to serve with salad, vegetables and even noodles. Placing some noodles in a bowl, chicken over pasta and pour a little sauce over the meat, get a perfect and appetizing presentation.