If you are celiac, it is certainly not at all easy to prepare a variety of recipes that will not affect your body. We advise you try this delicious recipe for stuffed mushrooms that are sure to leave you licking your fingers.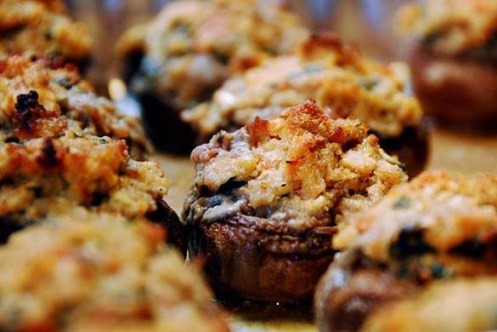 These stuffed mushrooms with meat and cheese, suitable for people intolerant to gluten, are the ideal dish if you are celiac or not. Also, this dish will undoubtedly become the ideal host any meal.
Preparation and cooking time: 50 minutes
Ingredients:
125 grams ground beef
1/2 cup fat-free cheese (preferably ricotta, but this recipe also works well with any soft cheese or even cream cheese)
1 egg
1 teaspoon finely chopped onion
1 teaspoon chopped fresh parsley
Pinch of salt
Dash pepper
1/4 cup tomato sauce (preferably pasta sauce)
6 large mushrooms (if the diners are many, will be used more mushrooms)
1/4 cup ricotta or mozzarella cheese.
Preparation:
Pre-heat oven to 190 degrees.
Grease the tray to be cooked mushrooms.
Empty inside the mushrooms and cut into tiny pieces.
Cook ground beef with the chopped mushrooms for about ten minutes, stirring continuously until it does not offer a pink color.
In a bowl, mix the eggs with the cream cheese, onion, parsley, salt and pepper until well blended.
Add the egg mixture and cheese to the ground beef and use it as a filling of mushrooms.
Place the mushrooms upside down and close together at the other. Put about a tablespoon of the filling inside each mushroom cavity. Once all the mushrooms are stuffed, put a little more on each of them, until it protrudes slightly.
Place the mushrooms in the oven for about 15 minutes until the filling is done.
Remove the mushrooms from the oven and put the sauce and mozzarella cheese.
Place the mushrooms in the oven again for about 5 minutes until cheese is melted and lightly browned.
Before serving, let everything stand for about 5 minutes.
Once you try this recipe, sure to repeat!