Are you vegetarian? Do not forget to enjoy the delicious taste of buffalo wings by changing this healthy option…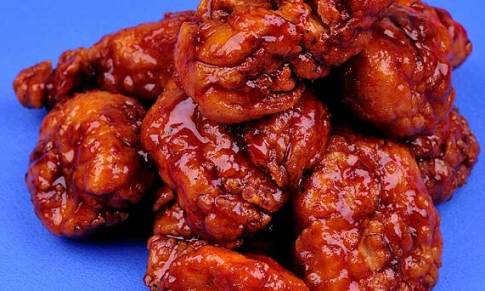 Ingredients
1 head cauliflower, cut into florets
2 tablespoons butter, melted
1 tablespoon olive oil
1 teaspoon garlic powder
1 teaspoon onion powder
Salt and pepper, to taste.
For glaze
1 chipotle chile + 2 tablespoons adobo, ground
¼ cup sriracha sauce
2 garlic cloves, minced
4 tablespoons butter
¼ cup honey
1-2 tablespoons soy sauce
1 lemon juice.
Preparation
Preheat oven to 200° C.
Combine the melted butter with the olive oil, onion powder and garlic powder. Add a little salt and pepper, to taste.
Add the cauliflower florets to the butter mixture and stir well. Arrange on a baking sheet covered with wax paper and roasts for 15-20 minutes, or until it begin to brown the edges.
Meanwhile, melt the butter for the frosting in a small pot and then enter the remaining glaze ingredients. Let it boil and then boil over medium heat until slightly thickened. Separates.
When is the cauliflower ready combines with the glaze and roasts for another 5 minutes.
Serve with additional glaze on your wings.