The perfect dessert for this heat time is a rich caramel ice cream made easily at home.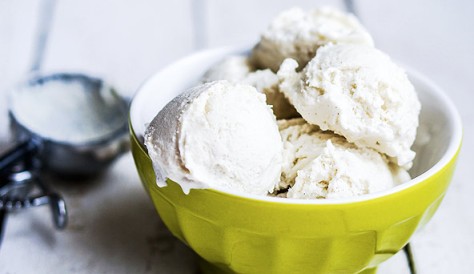 What do you need?
1 tablespoon butter
2 tablespoons brown sugar
1 cup walnuts, chopped
1 can (380 grams) of fresh milk from the dairy
220 grams fat-free whipped cream
1 teaspoon vanilla.
Preparation:
Melt butter and sugar in a small pot on low temperature. Heat until butter is melted and then adds the nuts. Cook over low heat for 1 minute, stirring constantly. Remove from heat and allow to cool on a baking sheet covered with wax paper.
Put fresh milk in large bowl. Stir to break up a bit. Add vanilla and whipped cream and incorporates carefully until almost combined. Add walnuts.
Pour the mixture in a vacuum container and freeze until it is almost firm, for at least 4 hours or up to overnight.
Serves.
Tips. Sprinkle with a little sea salt before serving. You will know how delicious!