Succulent combinations of sweet and sour flavors with a touch fruity delight you.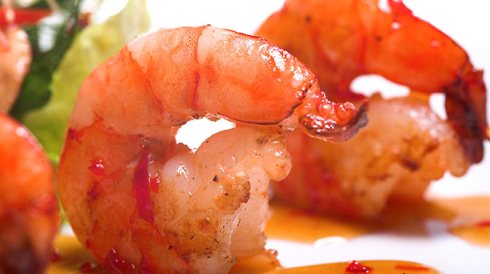 Ingredients (4 servings)
For the sauce
400 grams black beans
1 mango, peeled and diced
1 red pepper, diced
2 scallions, finely chopped
2 tablespoons orange juice
1 tablespoon red wine vinegar
½ teaspoon orange zest.
For shrimp
1 tablespoon orange juice
1 tablespoon olive oil
½ teaspoon orange zest
1½ teaspoons chopped fresh thyme
1 garlic clove, finely chopped
350 grams of raw shrimp, peeled and without queue.
Preparation
To prepare the sauce, combine all ingredients in a large bowl. Mix well and set aside.
For the shrimp, mix the remaining ingredients in a medium bowl and set aside.
Heat a teaspoon of olive oil in a large skillet and add the shrimp mixture. Cook over medium heat, stirring until shrimp turn pink.
Divide the sauce among four plates and place the shrimp on top.