A different option and original for the meal are these burritos of rib-eye with guacamole and delicious mushrooms to grill.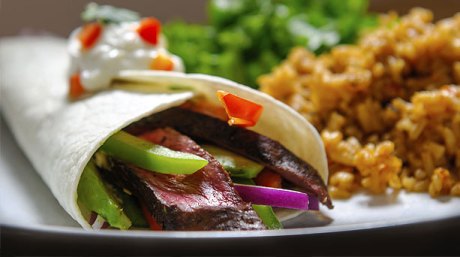 Ingredients (4 servings)
1 bunch large shiitake mushrooms, thinly sliced
560 grams grilled rib eye
Rock salt and black pepper, to taste
1 teaspoon dried oregano
1 tablespoon paprika
Olive oil
4 flour tortillas
Guacamole, to taste.
Preparation
Heat grill to high temperature. Grill the mushrooms until well sealed. Remove from heat and keep warm.
Season the fillets with salt, pepper, oregano and paprika. Varnish with a little olive oil and heat on preheated grill for 5 minutes, turning every minute, or until ready to taste. Let rest on a plate.
Put tortillas on a clean surface and spread with guacamole, to taste. Cut the steaks into thin strips and divide them among the tortillas combined with roasted mushrooms.
Sprinkle with a little olive oil and the juice of the meat and wraps.
Serve immediately.