Celebrate special day consenting to your loved ones with these strawberry banana crepes recipe.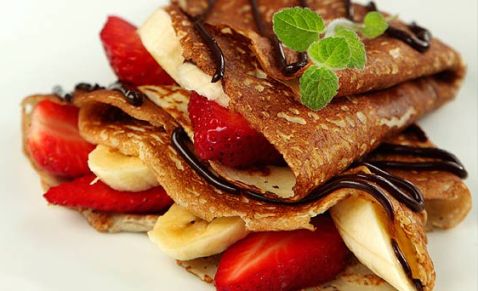 Ingredients (6 to 8 crepes)
3 eggs
½ cup whole milk
½ cup flour
¼ teaspoon salt
2 tablespoons butter, melted
2 cups strawberries, sliced
2 bananas, sliced
Icing sugar.
Preparation
In a medium bowl whisk the eggs until fluffy. Add milk, flour, salt and melted butter. Beat until smooth.
Heat a nonstick skillet over medium heat. Pour ¼ cup batter into the hot pan and rotate the pan in a circular motion so that the mixture covers its entire surface equally.
When the bottom of the crepe starts to brown, remove from heat and transfer to a plate to cool. Repeat with remaining mixture.
Fill crepes with fruit and rolled edges.
Serve with icing sugar.