This light version of a delicious dessert has only 160 calories per serving so it's perfect to satisfy your sweet cravings.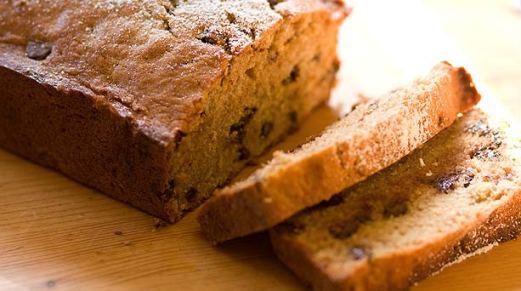 Ingredients
3 very ripe bananas
½ cup unsweetened applesauce
1 tablespoon low-fat butter
2 egg whites
1½ cups whole wheat flour
½ teaspoon salt
1 teaspoon baking powder
1 teaspoon baking soda
½ cup brown sugar
½ cup granulated artificial sweetener
1 teaspoon vanilla extract
1/3 cup dark chocolate chips.
Preparation
Sprinkle 2 molds for regular bread size with cooking spray and spread.
In a small bowl mash the bananas with a fork and spread.
In a large bowl beat butter, applesauce, vanilla, brown sugar and artificial sweetener. Add the egg whites and mashed bananas and beat with a mixer at medium speed of 2 to 3 minutes.
Combine flour, salt, baking powder and baking soda in another bowl. Add the dry ingredients to the wet ingredients and mix until well combined.
Incorporates chocolate chips.
Transfer the mixture to the loaf pans, which will be half full. Bake 30-35 minutes or until a fork or toothpick inserted in center comes out clean.