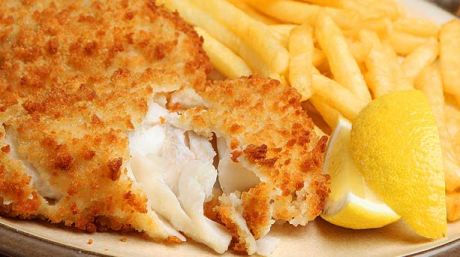 Ingredients (4 servings)
6 cherry tomatoes, halved
2 tablespoons olive oil
¾ teaspoon dried tarragon
Pinch of sugar
Rock salt and ground pepper
1/3 cup mayonnaise
1 tablespoon fresh lemon juice
3 slices of white bread loaf, cut into large pieces
4 sole fillets
2 tablespoons Dijon mustard.
Preparation
Preheat oven to 232º C.
Arrange the tomatoes on a baking sheet. Drizzle with 1 tablespoon olive oil and sprinkle with ¼ teaspoon tarragon, sugar, salt and pepper. Roasts on the bottom rack of the oven until it's remain soft, 20 to 25 minutes. (Do not turn the oven)
In a small bowl mix the mayonnaise, ½ teaspoon tarragon and lemon juice. Season with salt and pepper to taste and spread.
Covers another baking sheet with foil and rub with oil. In a food processor put the pan with a pinch of salt and pepper and 1 tablespoon olive oil. Processes until small crumbs form.
Arrange the fillets in the baking dish, season with salt and pepper. Spread mustard on top and sprinkle with bread crumbs, pressing to adhere.
Bake fish in the upper rack until fish is fully cooked and the breadcrumbs are golden, 6 to 8 minutes.
Serve with tomatoes and sauce.