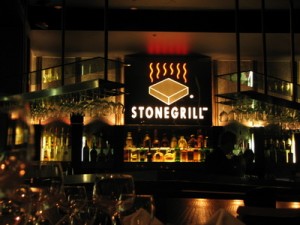 At The Strathmore in Adelaide, 129 North Tce – opposite the station –
Here is the specialty Stonegrill Dining, so food is served at 400 degrees hot stones and then even let the meat cook as long as you want.
There are several variations to choose from including seafood, chicken, game birds but also Australian specialties such as Kangaroo and crocodile.
You can chose a mixed menu that consisted of a HUGE beef steak, 2 pieces of crocodile, 4 pieces Kangaroo and 4 tiger prawns. In addition a little salad and some fries. Mad enough to satisfy your hunger with a hefty man who has not received food for several days…. The whole thing will be incredibly delicious and raw materials of high quality. But the price was not high – only approx. 25 AUD.
It's definitely something that you can recommend.