It is a classic and we all love it, prepare it and delight your guests.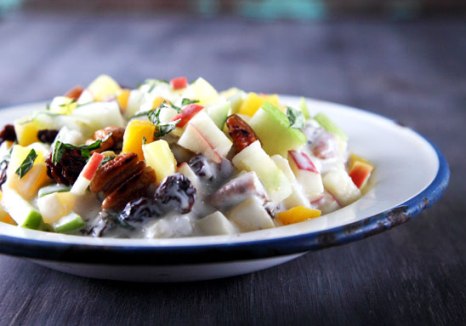 Ingredients:
1½ cups nonfat Greek yogurt
2 tablespoons lemon juice
3 tablespoons agave nectar
½ cup walnut halves
4 blocks (different colors), in small cubes
3 halves of peaches in syrup, in small cubes
2 slices of pineapple in syrup, in small cubes
½ cup raisins
3 tablespoons mint leaves, washed and disinfected.
Preparation:
Combine in a bowl yogurt, lemon juice and agave nectar. Lightly toasted walnuts in a pan, cool completely and transfer them to the bowl with the mixture; incorporated all fruits along with mint and stir to impregnate them with all the flavor of yogurt mixture. Refrigerate for a few minutes as desired before serving and enjoy.