Located in a charming setting (in the dome of the old bullring Las Arenas in Barcelona, ​​now converted into a shopping center) and with a cuisine as delicious as infinite, presents the Abrassame restaurant, a luxury for the senses and a 'off-road' to suit any occasion.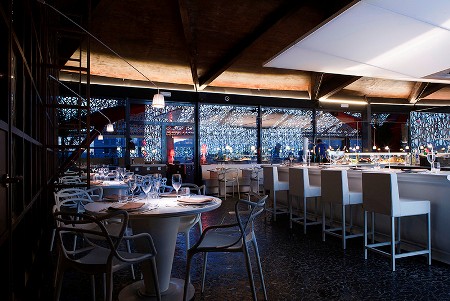 Ensure you a wonderful romantic evening on its beautiful terrace overlooking the Plaza de Espaaa in Barcelona, ​​will ensure an intimate and quiet dinner in their wine area, they will provide a perfect business meeting if you rent one of their private rooms and you can enjoy a unique family meal within its spacious interior room.
It also has a huge kitchen open to the public can be seen, not to lose sight of how the selected chefs cook this place, under the command of chef Philip Bonastre.
Among its 'work of art' we find a wide variety of delicious seafood flown in daily from the fish market and cooked on the braised, grilled or baked and a delicious selection of meats, such as Nebraska t-bone steak or Asturian Entrecote.
Rice is also an important part of the dish menu as more than 30 dishes of 'meal' such as mussels, calamari, crayfish or tuna tataki on which we opt for a lighter menu. Whatever the choice, Abrassame ensure quality and excellent personal attention.