Restaurant La Pergola in Rome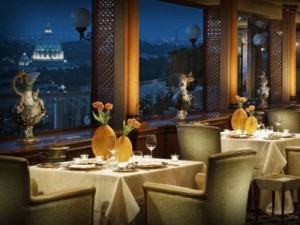 The Restaurant La Pergola, on the top floor of the hotel Ai Cavalieri Hilton, is a luxurious, elegant, refined, with cherry wood, lighting and artfully designed with a splendid view over the city to be enjoyed even in summer on the terrace.
The cuisine is creative, light Mediterranean, with dishes such as scallops grain amaranth and bundles of eggs and cheese. The restaurant La Pergola in Rome also offers an excellent wine cellar with a wide and careful selection of over 2,000 labels. Offers a total of 50 seats available.