Restaurant Enoteca Pinchiorri in Florence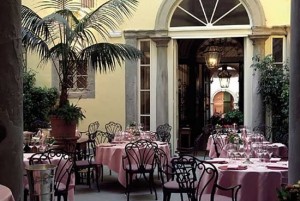 The Restaurant Enoteca Pinchiorri, located in a palace near the Piazza della Signoria, is a unique, elegant, refined, impeccable service, also has a garden and terrace for dining in summer. It affects the refinement and simplicity of the staff. You feel comfortable in a great environment that you think do not do it for you. Excellent cuisine, professionalism and superb hospitality.
The Italian cuisine is revisited, tending to the creative, with marked notes of the territory. The Restaurant Enoteca Pinchiorri of Florence also has an excellent wine cellar, famous throughout the world. When the food meets art, a place where once inside, you discover a parallel universe, made up of dishes that look square, wines from fiction, and a highly professional service but with great sympathy. A total of 55 offers the availability of seats. Reservations are essential.
Address: Via Ghibellina 87, Florence