Porta Marina Restaurant in Syracuse
The restaurant Porta Marina, also known as Da Salvo restaurant, is an elegant, comfortable and very bright. Refined, creative cuisine and very pleasing to the palate, excellent hot and cold appetizers, great culmination to a day of celebration, the expectations were not disappointed.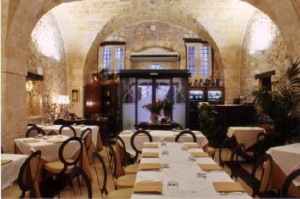 The regional cuisine is creative, classic seafood dishes faithful to tradition, interspersed with original personal reinterpretations. The Porta Marina Restaurant in Syracuse also has a good cellar linked especially to the region, complemented by prestigious national and international labels. Altogether offers the availability of 60 seats.
Address: Via Dei Candelai 35, Syracuse
Phone: 0931 22553